Addresse:
Freiherr-vom-Stein-Straße 2, 6th floor, 93049 Regensburg, Germany
Location:
Inner Westside, at Prüfeninger Straße, next to Hospital Barmherzige Brüder, close to University, approx. 1,5 km to old town.
Access:
Excellent bus and freeway access; bus stop lines 1/4 for downtown/university in 150 m distance
The Apartment:
Bright, friendly, recently renovated apartment (approx. 50 qm) modern furniture. Big living/sleeping room with romantic four-poster bed, parquet floor, bed linen and towels provided. Beautiful new bathroom with tube; separate small kitchen fully equipped and with a dishwasher. Coin operated washing machine and tumbler in the basement. Large secluded south-facing balcony (6th floor). Underground parking lot on request, bicycle storage room; Supermarkets close by. Perfect for tourists and business travellers. The apartment is a non-smoking area, smoking is only allowed on the balcony. Informative literature on Regensburg and surroundings is available.
Prices:
Per night: 1 person 55 EUR, 2 persons 70 EUR, 3 persons 85 EUR
Per week: 1 person 360 EUR, 2 persons 455 EUR, 3 persons 555 EUR
Reduced rates for monthly rental possible. Internet on demand.
During longer stay the apartment will be cleaned weekly. Final cleaning 30/50 EUR
Underground parking lot 7 EUR per day. Advance payment or cash on arrival. Deposit 150 EUR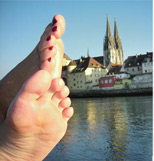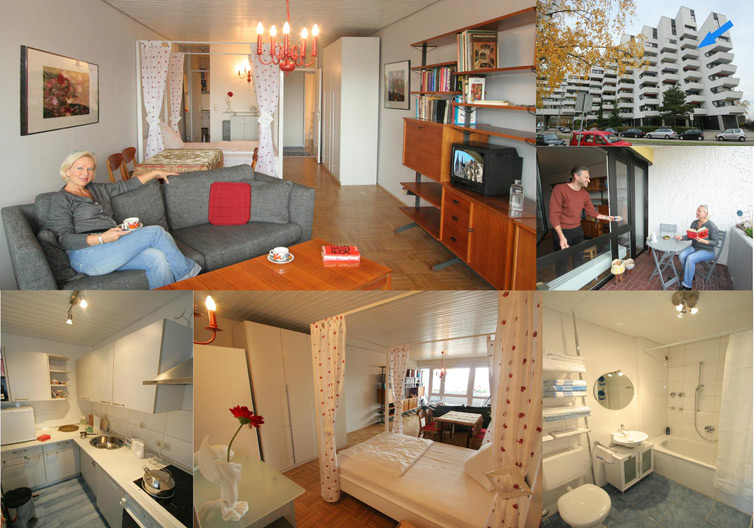 Kontakt/Impressum:
Hannelore Helbig
Peter-Parler-Straße 20, 93073 Neutraubling, Germany
fon/fax +49 9401 4994
mobile +49 175 857 2062
e-mail: mail@hanni-helbig.de
Steuer-Nr.: 244/227/30814
General Terms and Conditions:
General Terms and Conditions
1. Conclusion of Agreement
1.1 The Lodging Agreement/Lease Agreement between the guest and the Apartment Helbig is deemed binding upon the commitment by both the guest and Mrs. Helbig. This occurs upon signature of the lease agreement by both parties or, as an exception due to time constraints, by verbal agreement.
1.2 If the rent/deposit is not paid by the designated deadline, the reservation is cancelled.
2. Arrival and Departure
Unless otherwise agreed, the apartment is available as of 15.00 hours on the day of arrival; the apartment is to be vacated by 11.00 hours on the day of departure.
3. Services
3.1 The contractual scope of services of the Apartment Helbig are listed on the homepage or based upon agreement.
3.2. All prices include the statutory Value Added Tax.
4. Payment
Unless other arrangements have been reached, the rent/deposit for the Apartment Helbig must be received in the account of Mrs. Helbig 14 days prior to arrival. If the rent/deposit has not been credited to the account of Mrs. Helbig by the designated due date, Mrs. Helbig has the right to terminate the agreement. Should the guest(s) prematurely terminate their stay, Mrs. Helbig is not obligated to refund any portion of the rental fee.
5. Cancellation
Unless otherwise agreed upon, the cancellation of a reservation will require payment as follows
11-20 days prior to commencement date, 50% of the rental fee, as per agreement
6-10 days prior to commencement date, 70% of the rental fee, as per agreement
< 6 days prior to commencement date, 80% of the rental fee, as per agreement
6. Liability
6.1 The guest is liable for damages caused by him/her or his/her guests.
6.2 Mrs. Helbig cannot be held liable for the loss of cash or other valuables in the Apartment Helbig.
Upon the conclusion of the lease agreement, both sides accept all of the General Terms and Conditions.
Copyright:
© 2010 Hannelore Helbig; all rights reserved. Photos: Gerhard Eisenschink, Regensburg.
Liability:
The information contained on the website is carefully and regularly reviewed and updated. However, no liability or guarantee is given that the information provided is complete, correct and always current. This also applies to websites accessed through hyperlinks. No responsibility is assumed for the content of such websites. The statements on the website can be altered or amended, as needed. Status: January 2010.